A Vermont Bed and Breakfast
near Mount Snow Resort


Home


About Us


Baked Apples at SHF


Plan a Spring Vacation


Plan a Summer Vacation


Enjoy the Fall Foliage


Plan a Winter Vacation


Rooms & Rates


Reservations


Get Travel Directions


Gift Certificates
Special Events
Send us an email and let us know when you're considering coming to Vermont. We'll get back to you a quickly as possible with a personal email from Patti who'll let you know what special events are going on throughout the Mount Snow Valley region and southern Vermont.
Shearer Hill Farm
P.O. Box 1453
Wilmington, Vermont 05363
800-437-3104
802 464-3253
Contact Us
Our GPS Coordinates are:
N 42 degrees 49.636
W 072 degrees 47.848
Vermont Bed and Breakfast

Home

Maple Sugaring
Whitingham Maple Festival
& the Shearer Hill Farm Sugarhouse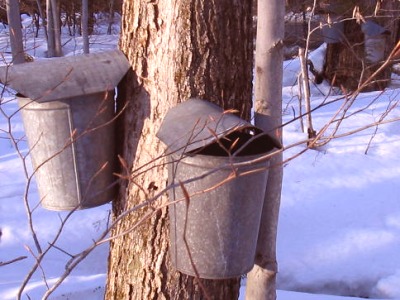 Every year, just a few miles away from Shearer Hill Farm, the Whitingham Maple Festival takes place. This self-guided tour allows visitors to tour several sugarhouse throughout our area. You can meet the sugarers, see how they run their sugaring operation, and sample their syrup hot from the boiler - and let us tell you, NOTHING tastes better than freshly boiled Vermont maple syrup. The sugarhouses you'll visit are both old and new, so you'll also get to see a wonderful cross-section of maple sugaring techniques and traditions.
Shearer Hill Farm also has a sugarhouse, though it's not open to the public because every year our guests enjoy helping farmer Bill gather sap and boil syrup. It's a really fun time. There's even been an article in the NY Times about our maple sugaring.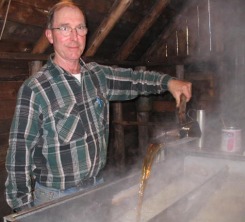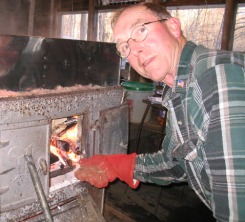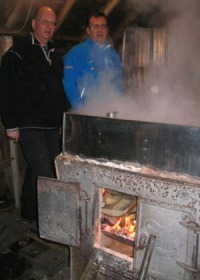 If you and your family are interested in joining us for the Vermont maple sugaring events at Shearer Hill Farm, please give us a call or email. We'd love to have you join us. You can either take the Whitingham Maple Festival tour, help farmer Bill in our own sugarhouse, or both. It's up to you. One thing is for sure though, you'll probably want to bring a camera, and you'll probably want to bring some fresh Vermont maple syrup home to your friends and family. It's just that good!
More information...
For more information about our maple sugaring operation, visit our Spring Vacations page.
Click here for a look at our 6 Rooms and Carriage House.
Current Rates & Reservations
$135/night, Year Round, Double Occupancy Rate
$100/night, Year Round, Single Occupancy Rate


Shearer Hill Farm B&B is wheelchair accessible.
We welcome your interest and invite you to ask us questions. For more information or to book a reservation, call 800-437-3104 or Email Us below.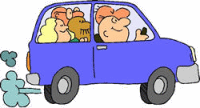 *Your email address:




First Name:

Last Name:

Phone:

() -


Message:





How did you find us?