A Vermont Bed and Breakfast
near Mount Snow Resort


Home


About Us


Baked Apples at SHF


Plan a Spring Vacation


Plan a Summer Vacation

Enjoy the Fall Foliage


Plan a Winter Vacation


Rooms & Rates


Reservations


Get Travel Directions


Gift Certificates
Special Events
Send us an email and let us know when you're considering coming to Vermont. We'll get back to you a quickly as possible with a personal email from Patti who'll let you know what special events are going on throughout the Mount Snow Valley region and southern Vermont.
Shearer Hill Farm
P.O. Box 1453
Wilmington, Vermont 05363
800-437-3104
802 464-3253
Contact Us
Our GPS Coordinates are:
N 42 degrees 49.636
W 072 degrees 47.848
Vermont Bed and Breakfast

Home

Vermont fall foliage
Don't miss fall foliage in Vermont.
Make your reservation today!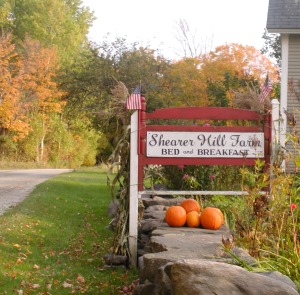 "Probably what makes fall foliage in Vermont so special is not simply the spectacular colors, but also that each fall season is a new adventure and one can go home, or go back to work, and tell a great story about everything they did and saw in Vermont," says Innkeeper Patti.
"We're fortunate that our bed and breakfast is located off-the-beaten-path as well, in a very scenic area of southern Vermont. The B&B is on a dirt road which we believe is part of the appeal. We're away from the busy main roads and all the cars. It's quiet and peaceful here, yet if you want to go into town, we're only 15 minutes from lots of shopping, restaurants and events."
"Many of our customers comment that Bill and I are very friendly 'down to Earth' people, which we take as a great compliment. We try our best to make every guest feel special and see that they have a relaxing stay this is also a lot of fun. We love serving our baked apple breakfasts because our customers think it's wonderful and it gives us a chance to chat with our guests while we share a cup of coffee and listen for the cows mooing in the pasture. It's nice to sit on the back deck in the morning and look out over the pasture with the fall colors in the background."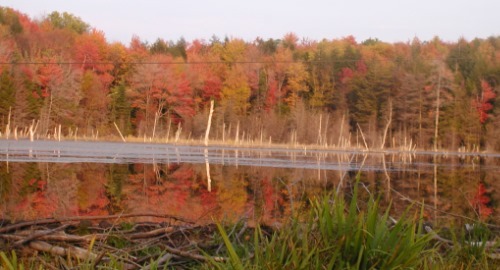 "Our only reservation concerning managing a B&B is that we wish we had more rooms and more time. Our 6 Rooms and Carriage House fill up fast and the brief 3-4 weeks when the Vermont fall foliage is peeking in our area goes by so fast. That's why we encourage people to call us early. If we are booked, then we help customers find other lodging in the area. There are a number of other wonderful B&Bs and Inns in the area that we like to recommend."
*A look at the drive. just before you reach Shearer Hill Farm B&B, which is just out of sight on the right.

Innkeepers Bill and Patti hope that you'll give them a call and plan a trip to Vermont this fall. You'll be greeted when you arrive with a warm welcome and hot cup of coffee, and whether you're planning to check out the sites, or simply relax at the B&B, Bill and Patti will help you plan each day so that you have the best weekend or extended vacation possible. Please feel free to call or email questions.
Current Rates & Reservations
$150/night, Year Round, Double Occupancy Rate
$110/night, Year Round, Single Occupancy Rate


Shearer Hill Farm B&B is wheelchair accessible.
We welcome your interest and invite you to ask us questions. For more information or to book a reservation, call 800-437-3104 or Email Us below.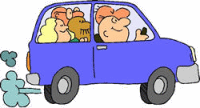 *Your email address:




First Name:

Last Name:

Phone:

() -


Message:





How did you find us?