A Vermont Bed and Breakfast
near Mount Snow Resort


Home


About Us

Baked Apples at SHF


Plan a Spring Vacation


Plan a Summer Vacation


Enjoy the Fall Foliage


Plan a Winter Vacation


Rooms & Rates


Reservations


Get Travel Directions


Gift Certificates
Special Events
Send us an email and let us know when you're considering coming to Vermont. We'll get back to you a quickly as possible with a personal email from Patti who'll let you know what special events are going on throughout the Mount Snow Valley region and southern Vermont.
Shearer Hill Farm
P.O. Box 1453
Wilmington, Vermont 05363
800-437-3104
802 464-3253
Contact Us
Our GPS Coordinates are:
N 42 degrees 49.636
W 072 degrees 47.848
Vermont Bed and Breakfast

Home

Baked Apple Breakfasts
Delicious baked apples, for breakfast!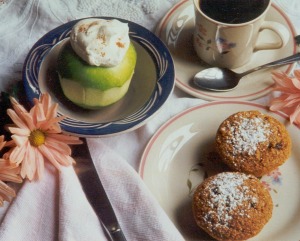 We discovered several years ago that our guests absolutely love waking up in the morning, not only to the smell of freshly baked muffins and coffee, but to baked apples with our very own maple syrup.
We use Vermont apples whenever posssible, generally Early Macs because they ripen in mid-August through early September, which is perfect timing for our fall vacationers. Or, if our guests prefer a more tart apple to offset the sweetness of the maple syrup, we use Granny Smiths.
We've perfected a recipe and baking process that results in a simply delicious breakfast. Best of all, when the weather cooperates, you can enjoy your Vermonter breakfast on the back deck, where you can listen to the cows mooing in the pasture. There's just something relaxing about the loud bellow of cows off in the distance. They're actually calling for breakfast too, waiting patiently for Farmer Bill to bring them their morning hay.
Sometimes the morning air be a bit brisk until the sun peeks over the tops of the trees and begins to warm the air and burn off the morning dew, but our guests never seem to mind the morning chill. We believe they find it exilerating and great start to the day!
Part of the secret to our baked apples is the bowl in which we bake them. Called "apple bakers," these unique bowls have a ceramic post in the center, so that the cored apple will sit on the post and bake perfectly, without collapsing in the bowl during the baking process. Over the years so many of our guests have requested the bowls to take home with them, that we now sell them as well. $20 for a set of 2 apple bakers. If you'd like to order you're own apple baker bowls, simply give us a call. We'd be glad to ship them to you.
Maple Sugaring
We also make our very own maple syrup in our little sugarhouse here at the B&B. We don't know of any other Vermont bed and breakfast that has their own sugarhouse, which is something that we believe makes us quite unique. Since Shearer Hill Farm B&B is also a small working farm, maple sugaring is a perfect fit. Farmer Bill gathers sap every spring, and boils about 50 gallons of syrup in a good season. If you join us in March you can help make Vermont maple syrup. Our sugarhouse is always fun. Learn more...
Click here for Rooms & Rates.