A Vermont Bed and Breakfast
near Mount Snow Resort


Home


About Us


Baked Apples at SHF


Plan a Spring Vacation

Plan a Summer Vacation


Enjoy the Fall Foliage


Plan a Winter Vacation


Rooms & Rates


Reservations


Get Travel Directions


Gift Certificates
Special Events
Send us an email and let us know when you're considering coming to Vermont. We'll get back to you a quickly as possible with a personal email from Patti who'll let you know what special events are going on throughout the Mount Snow Valley region and southern Vermont.
Shearer Hill Farm
P.O. Box 1453
Wilmington, Vermont 05363
800-437-3104
802 464-3253
Contact Us
Our GPS Coordinates are:
N 42 degrees 49.636
W 072 degrees 47.848
Vermont Bed and Breakfast

Home

Summer Vacations
Summertime in Vermont. With so much
to see and do, you won't want to go home!
Whether you're interested in championship golf, hiking, mountain biking, or music, it's all right here in Southern Vermont! In fact, The Long Trail is a hiking path traveling 265 miles north/south the entire length of Vermont and is only a 30 minute drive from us. Mount Snow championship golf course, a mountain biking facility, Orvis fly fishing instruction, gift shops, a quilting store, petting farm, winery, large flea market, ferry boat tours and more are only a few minutes away.
The Annual Strolling of the Heifers Parade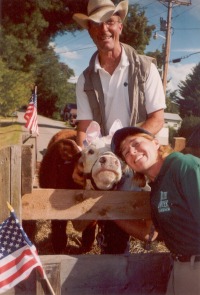 Strolling of the Heifers is a celebration of cows, farmers, artists, and the sustainable practices that nurture and preserve our families, communities and rural way of life. Our little Vermont bed and breakfast is a great example of that, because we are also a small working farm that can appreciate all that farming has offered our family over the years.
The annual Strolling of the Heifers parade/festival will be held on Main Street America, taking place in June, not far away in nearby Brattleboro, Vermont. As Farmer Bill has in the past, he'll be walking one of our calfs - assuming we have one that is the right age at the time.
The calf shown here is "Valentine", a spendid heifer who had a most wonderful time a couple of years ago, participating in the strolling event. He was dressed up with pink rabbit ears and loved getting his picture taken with our guests. Needless to say, Valentine make this guest's Vermont vacation one to remember.
The heifer parade is like no other as thousands of cow fanciers line the streets amidst lawn chairs and cow balloons to see 75 flower-bedecked bovine beauties identified by name strut their stuff up Main Street Brattleboro led by Putney School students, farmers and 4-H Club members. Lively entertainment and colorful floats, including clowns, a dairy fairy, horses, oxen, alpacas, water buffalo, camels, yaks and more follow as Turkey Hill's Giant Cow and cow-costumed pooper-scoopers play up the moood.1
We hope you'll join us this year. For more information, Click Here
The Annual Marlboro Music Festival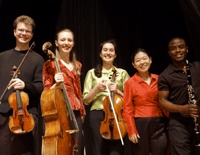 Marlboro Music is recognized as today's preeminent center for advanced musical studies and is credited for its' pivotal role in the development of chamber music in the U.S. Marlboro Music is also know for training generations of musical leaders.2
Each summer, on a rural hilltop in Marlboro, Vermont, master concert artists gather with exceptional young professionals on the campus of Marlboro College, not far from Shearer Hill Farm. For seven weeks, the musicians rehearse, exchange deas and play together as one large musical family. Concerts take place on weekends from July through August and tickets are available up until 48 hours prior to each concert event. Tickets for the upcoming season will be available online beginning April 1 at MarlboroMusic.org.3 If you need tickets, simply let us know and we can help. We hope you'll join us this year to enjoy some wonderful chamber music in the mountains of Vermont!
Click here for a look at our 6 Rooms and Carriage House.
Current Rates & Reservations
$150/night, Year Round, Double Occupancy Rate
$110/night, Year Round, Single Occupancy Rate


Shearer Hill Farm B&B is wheelchair accessible.
We welcome your interest and invite you to ask us questions. For more information or to book a reservation, call 800-437-3104 or Email Us below.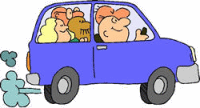 *Your email address:




First Name:

Last Name:

Phone:

() -


Message:





How did you find us?